1. The difference between a meeting & a workshop and why writing and asking questions can make a big difference?
Cooptalis teams wondered about the difference between:
- a meeting (sharing information or discussing challenges and get to a team consensus on the way to solve them… and then get to "work")
And
- a workshop (collectively produce work on a given defined project).
For both, we discussed the importance of getting a consensus in writing. One may argue: "it takes time"; To what one may reply: "it invests valuable time to save a lot more later down the track!"
Writing is helping to summarize, create clarity out of complexity. It helps getting thoughts in order and ease prioritization. Amazon banned PowerPoints during meetings; attendees must only use a written maximum 6 page narratively structured memo to prepare and the first part of the meeting is allocating time for the attendees to actually read it (watch more about this with Bezos video at leadership forum, 3 minutes from:  here). 
You can also read that  tip  linked to Steven G. Rogelberg's one on how to improve meeting performance. Simple yet very effective:
"for any meeting, make sure there is one (or several) specific question(s) to answer in the agenda".
Applying the above set the scene for productive team discussions and actions.
Nothing new, it goes way back to Socrate's philosophy of questioning and critical thinking (or reflective thinking which writing can facilitate) that seeks "meaning & truth": essential drivers of motivation and cooperation.
2. The difference between Collaboration & Cooperation (& why we should work towards cooperation wining the data battle!).
Discuss and act upon it. Is this collaboration or cooperation?
We researched the difference between the 2 words and the findings are interesting:
Collaboration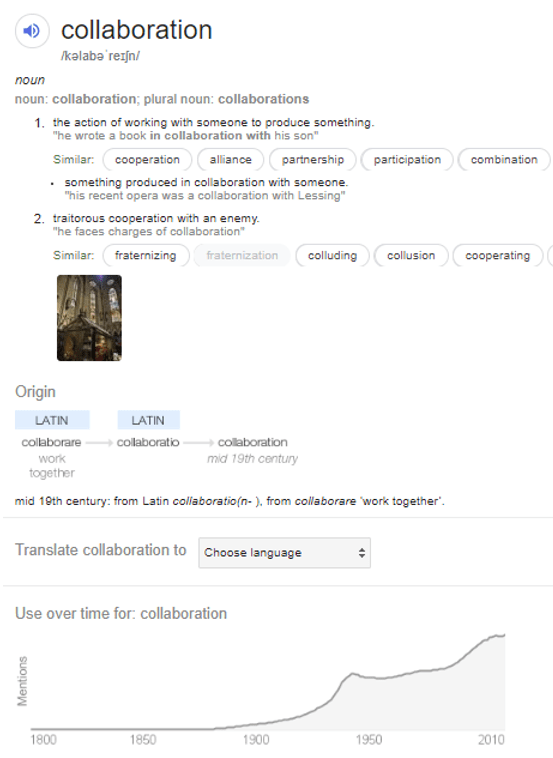 The action of working with someone to produce something.
Cooperation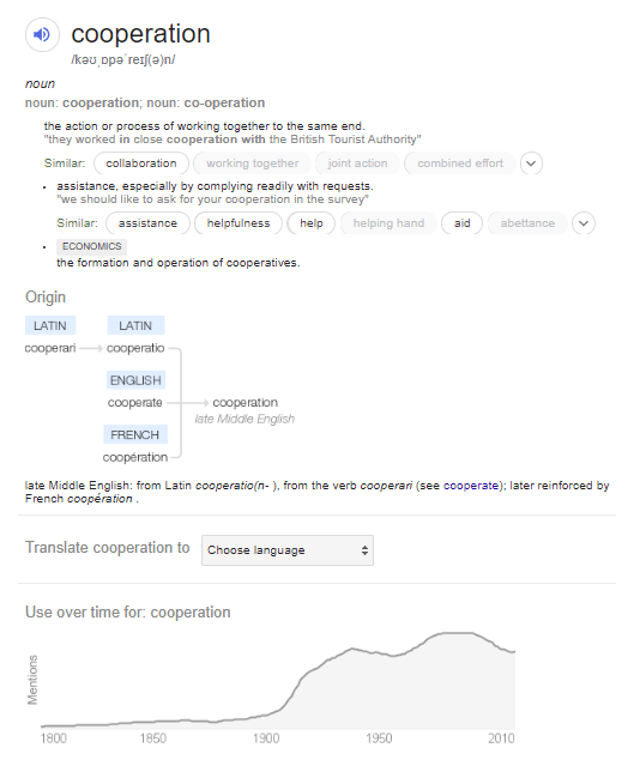 The action of working together "to the same end".
So for successful cooperation (i.e: to get to the same end), we must first agree on "what is the same end" and fully commit to get there as a team.
Equally interesting in the current times, the red line shows that we use collaboration more and more while cooperation decreases.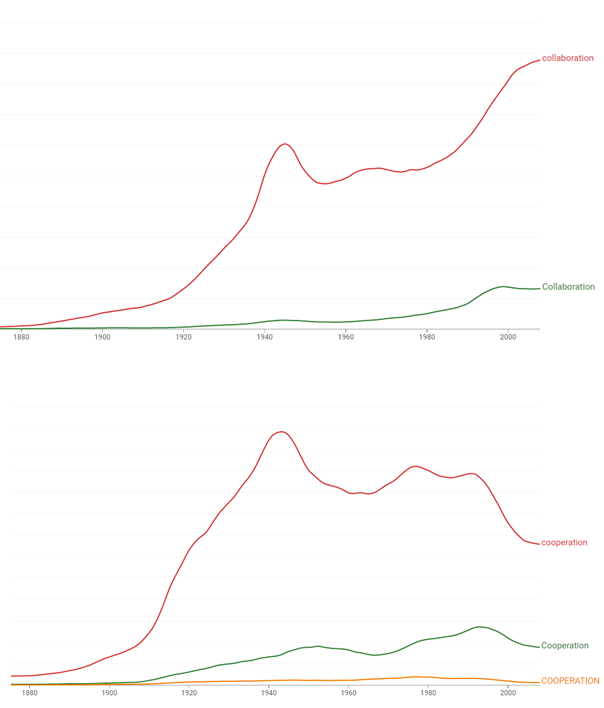 Why? (if you haven't watched "start with why" from Simon Sinek yet, it's here).
We have more collaboration tools than ever and we can share business information at the speed of thought as Bill Gates said back to 1997, yet the cooperation decreases. Sinek links it with the growing trend of Talents wanting to reconnect "work" to "heavy" words such as "purpose" and "positive impact" or in other words why do you do what you do? Which positive change does it bring?
3. The Tokyo Olympics and Cooptalis (why we believe it's important to celebrate human diversity and international talents)?
On the 24/03/2020, after carefully consulting Tedros Adhanom Ghebreyesus, the head of World Health Organization, the President of the International Olympic Committee, Thomas Bach, and the Prime Minister of Japan, Abe Shinzo announced that for health safety reasons, they were postponing the Olympics to 2021.
Based on expert information gathered from various countries, leaders took a decision. Factual truth (there were 375000 cases at the time) and meaning: it made sense and it was agreed to protect everybody's health; they paid a tribute to those who worked hard to prepare the world to celebrate human diversity. They also said the flame shall stay in Japan until the games are celebrated.
Why do we connect The Olympics & Cooptalis? Talented experts and leaders made a choice together.
Cooptalis is about fostering just that:
Coopt- (from Cooptare: choose together)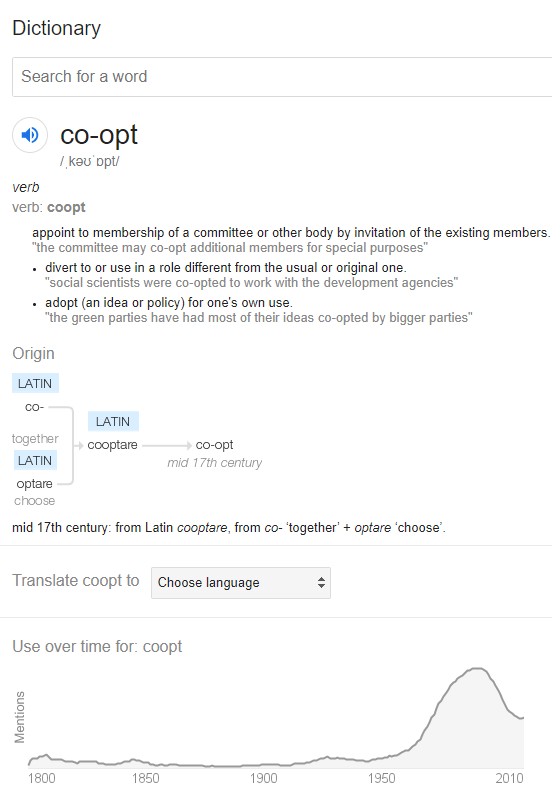 & Talent
The ways to employ the services of talents are changing fast. For organizations, to connect with & leverage the benefits of Talents is a very different challenge today than when it was a weight and unit of currency used by the ancient Romans & Greeks.
Speaking of them, we looked at the history of the Olympic Games and learnt more things: the Games initially took place to celebrate something bigger than themselves individually and collectively: the gods.
It's only after Pierre de Coubertin that it became:
a celebration of human diversity;the idea that sport offers every man & woman the opportunity for self-improvement.
We believe the same should go with work and expatriation.
The modern version's purpose is to celebrate human diversity and is described by Pierre De Coubertin's retirement speech in Prague in 1925. He reminds his audience to reflect upon this:
"Is there any need to recall that the Games are not the property of any country or of any particular race, and that they cannot be monopolized by any group whatsoever? They are global. All people must be allowed in, without debate, just as all sports must be treated on equal footing, without concern for the fluctuations or caprices of public opinion."
We believe the same should apply with job opportunities.
At Cooptalis, we  spot  (source & employ), move  (manage their immigration relocation and mobility globally) and  grow  (train) Talents globally; we provide services and solutions to talented individuals and teams and we are working to unleash their Talent and cooperation abilities; this is why we are called Cooptalis. This is why our tagline is
"Talent is borderless".
Our "flame" did not stay in Japan this summer; it kept on travelling (click  here  for proof & meet our international teams from Morocco, Canada, Vietnam, Belgium, France…). We believe that cooperation and Talent are the answers for a safer, fairer, and smarter world. This is our own "meaning". We all have our own yet work towards the same end.
Sharing that luxury that some of us had to live a professional experience abroad. For each Talent to have the opportunity to unleash and develop her/his skills in the right job. To learn from the extraordinary human diversity.
Our team works to make it accessible, simple and a great experience both for the organization and the Talent & his/her family.
During a workshop, we wrote:
"Some create walls, we build bridges for Talents and organizations."
This summer, Cooptalis gathered entrepreneurs, doctors and various talents to do a "socially connected, physically distanciated" multi-disciplinary ironwomen&men because we think generating links and fostering cooperation to choose together matter. Developing existing and new talents is required for a rapidly evolving world. Sharing our expertise, establishing deep connections as Gideon Rose wrote in his (pandemic related) edito:
"In truth, what is killing us is not connection; it is connection without cooperation. And the cure is not isolation but deeper connection, the kind that can support collective action. The doctors and scientists around the world have acted […]: reaching out to one another, pooling their talents and resources, and showing what a true global community could look like. […]"
When organizations pool talents and resources with the right goals (the "same end"), the world move forward constructively. Efficient meetings, solid work produced during workshops, connecting international talents for constructive, impactful cooperation, celebrate and leverage diversity…